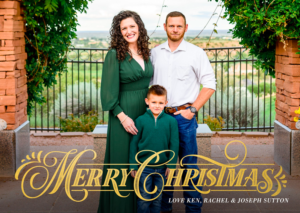 Merry Christmas! Thank you so much for choosing us to be your company and be part of our family. It has been an amazing year with so much growth, both personal and in the business! Each month we focus on a character trait as a team, some of my favorites have been gratitude and patience.
Our team is absolutely amazing, each team member is working so hard, and really taking our services to the next level. Thank you for all of the 5 star google reviews, each time your technician gets mentioned in a 5 star review they get a $50 bonus, and we are all so thankful for your efforts in helping them earn bonuses!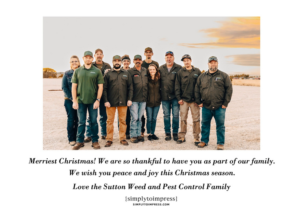 Some of the most exciting creature experiences the team has had this year revolve around bats. We've had a few team members go to houses and gently relocate bats that found themselves confused in living spaces!
We have also contemplated getting a cool pet mascot, but the state says we aren't allowed to raise a skunk pup if we have one in a trap. Moving on from that disappointment we have been researching pet tarantulas, but Rachel is not super excited to have bugs in the house to feed it, and what if it gets out! Thankfully tarantulas are amazing spiders and usually very docile and easy going… but no decision has been made. If you are a pet spider owner, please tell us about your experiences!
The team welcomed this year to join the Sutton Weed and Pest Family a beautiful baby boy to our weed technician Ryan! Ken and Rachel are starting to fill out things to try to have another adoption, but if you know of anyone who has a baby or child available for adoption please let us know!
As a team we strive to improve ourselves outside of work, and this year we've read Extreme Ownership by Jocko Willink and discussed it as a team. The driving principle behind it is taking ownership of our actions and words, and using that ownership to better our best each day and conquer any challenges that come our face with grace and determination.
Thank you so much for choosing us to be your Pest, Wildlife, Rodent and Weed control company. We hope this year has been beautiful for you, and that you have a very Merry Christmas!
With love, the Sutton Team!