Weed situations for 2022
This year has been intense for weeds, especially with these amazing monsoons we've been having! Because of this, we are implementing some new strategies! continue reading to learn new protocols, and interesting facts about weeds.
Crazy face: It will take 4,000 gallons of water to water in your weed product 1/2″ if you are on 1/4 acre. Or, 1/4 acre requires 4,000 gallons of water to have the weed product be effective.
Strategies
Re-evaluate: Our product costs have increased significantly, so we will be re-evaluating your land to give an accurate and updated price. We are also implementing a more detailed note system, so re-evaluating and including detailed notes will help us improve treatment and customer service.
Your technician will evaluate the areas needing to be treated at each treatment, and will present you with an updated price. Upon approval we will treat the area while we are there. Updated pricing includes accounting for terrain, density of vegetation, product cost, combination of products needed for your specific weed issues. Updated price will be valid for 30 days.
Each treatment you have this evaluation will take place to take into account the areas you want treated, products that need to be used, and any differences from the last treatment. Please let your technician know if you would like to alter the past treatment area, or have any concerns about a specific weed or area of your property.
Weed Treatment in untraditional areas:
Gravel is the best type of ground cover for weed control. We can also treat dirt, grass, culverts, and saplings (More on those below). These areas that are not gravel do not do as well with weed control and that's because of the sun.
The products we use kill existing weeds and prevent new weed growth. The UV rays of the sun break down the product. If there is no gravel covering the area, the sun will break it down faster.
For weed control in lawns, we have to use a lighter concentration of product to target only weeds and not destroy your lawn. Even those these areas are unconventional, that doesn't mean you shouldn't have them treated.
Here is a picture of weed control in dirt from 4 days ago that was very well watered in. The darker green areas are where we treated and the weeds are starting to die. This is excellent after such a short amount of time.
You can see the weeds dying already, and also see how intense weeds are in dirt. This is the first treatment, so this client can expect to see even better control with consistent treatments.
Some weed species can take up to 30 days to die, isn't that incredible!? No wonder they are so hearty and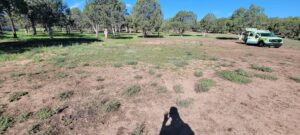 For our clients who have had consistent twice a year treatment and water the product in correctly, they have very few weeds return. The key to excellent weed control is adequate water and consistent treatments.
For these areas that are not covered under the warranty there is still hope! We can absolutely come back out and do additional treatments, you just pay per gallon used. Areas like dirt that will be continuous problems can be treated as often as once a month. Just discuss your weed control goals with your technician and we can put together a treatment plan to realize your vision!
Updated Weed Warranty
We are striving to improve customer service by being as detailed as possible. Our new weed warranty states: Product must be watered in within 15 days with ½" water. If watered ½", then 30-60 days after treatment you qualify for: 1 free spot treatment of 1 gallon in gravel area only. The first gallon is free, if you would like additional areas spot treated, the price will be $25/gal
It will take 4,000 gallons of water to achieve ½" on .25 acre.
Areas that are lawn, dirt, grass, wood chips and are not gravel do not qualify for free spot treatment. You can expect up to 75% weed control after the first treatment in gravel areas, and up to 90% weed control after the second treatment onward when you have continuous service twice every year.
Recommended weed treatment schedule:
Get weed treatment the first part of spring and the first part of summer to have the best weed control!
Standard Weed treatment Spring, Summer
Recommended schedule-
Gravel areas: 1st treatment March-June 1. Second treatment June 2-September 1.
Dirt, grass, wood chips, and all non gravel areas: Call us as many times as you like to have treatment, cost will be $20/gallon used. 20 miles away from warehouse in Show Low will have a $50-200 trip charge depending on location.
Lawn: Treatment in spring, summer and fall.
Treatment includes pre and post emergent, and fertilizer. Fall treatment will include Winter lawn fertilizer to bolster the lawn as it goes dormant.
What about the trees?
Tree Saplings:
These are not weeds, and are not treated like weeds. Tree saplings need a different mix of products, and we have to be careful how we treat them so we do not kill the main tree. Price to treat tree saplings is an initial price of $50, with each sapling treated as an additional $5. If long distance, there will be a trip charge. (Forest Lakes, St. Johns, Concho, Holbrook, Eager, Springerville, Greer etc.)
All weed prices given are per service, and is subject to raise as product prices increase. Prices valid 30 days.