We will solve YOUR pest control problems- GUARANTEED!
What sets us apart? Our unrivaled customer service! Not only do we use top of the line products, but we provide top of the line service. Our quarterly treatment uses 2 products to give you the best control AND reduce risk to your family. With 4 applications a year you are exposed to less product, and get better results!
We will lay down a protective barrier of product to protect your home from pests. Bugs will walk through the product and then die. Our products are not repellants, we follow
Purdue University's
guidelines on pest control protocols to give you the best and most effective pest control!
How we treat:
We knock down all cobwebs,
making your home look spic and span, cobweb free! We treat with 2 products, one is a liquid and the other granular. We treat around the perimeter of your home- 4-6 feet out from the foundation and 3 feet up the foundation. We also treat around all doors and windows, the eaves, on top of and below decks, and around the crawlspace doors and foundation vents. If you are having a specific pest issue inside then we can apply product around the baseboards of your home.
Pet and Child Friendly! Our products are safe to touch once dry. We recommend allowing the product to dry before pets or children come in contact with the treated area. If contact occurs while product is still wet, wash area with soap and water to avoid irritation.
Safety is our number one priority: Our products are carefully measured and mixed according to the label. We also record the products and amounts used on your invoice to provide you a record of products used on your home. Our technicians are licensed and certified, with quality control checks to ensure proper and safe treatment.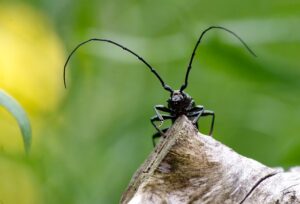 We treat spiders, ants, beetles, moths, bees and wasps.
We will NOT treat the inside of your home unless there is a specific need to do so. Purdue University, the leader in pest control training, has recommended that no chemicals should be applied inside your home, exposing your family to unnecessary risk unless there is a pest to kill. We care about your family as much as ours and want them to be safe at home.
No matter your pest problem we can handle it. Some tips to prevent infestation: remove debris from your yard especially near your home and under bushes and trees. Trim bushes and trees so that they are not touching your home. Do not over water your plants or grass, insects are attracted to moisture. In fact moisture is the leading factor in roach infestation. Store fire wood off the ground and away from your home.
If you have a pest problem give us a call and let us protect your home from further infestation.
NO SIGNUP FEES NO CONTRACT