Welcome to Sutton Weed and Pest Control! Our goal is to protect your family from excessive chemical exposure while providing the best pest control coverage!
Rachel and Ken Sutton-Owners –

Watch Our Video NOW!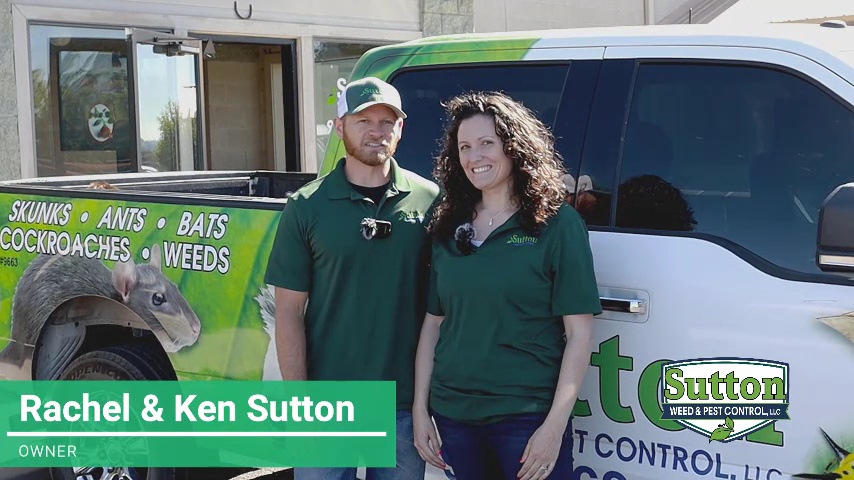 Hi Rachel here! My husband Ken and I founded Sutton Weed and Pest Control at the end of 2017 and really kicked it off spring 2018! We live in Show Low, and were blessed to be able to adopt our son from here! Our philosophy is to provide you the best pest and weed control with the LEAST amount of product applied.
We have won Best of the Best White Mountains Pest Control for 2 years in a row!
Having our own family and pets, we know how important it is to limit exposure, so we use top of the line products that are actually effective for 90 days! We only come 4 times a year, where other companies use lesser quality products that need to be applied every 28 days.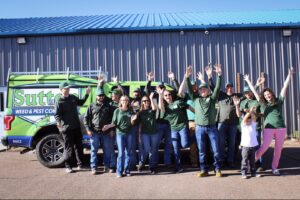 No Contracts, No signup Fees
6 Main Reasons to Choose Us:
Child and Pet Friendly Services
Satisfaction Guarantee!
Unrivaled Customer Service
Unlimited Callbacks
Over 250 5 star google reviews!
Certified and licensed technicians!
Using top of the line products allows us to give top of the line customer service! We answer the phone, show up on time, notify you when we are on the way, and if we miss your call, we call you back within 15 minutes! (As long as our office is open). You also get weekend access to Ken if you have live animals invading your home!
The community is so happy with our service and customer service that we have over 260 Google 5 star reviews! If you have bug breakthrough we will treat the area for FREE. All of our technicians live here on the mountain, and Ken and I just bought a warehouse in Show Low, solidifying our business roots here. (We will be life time Mountaineers for sure!)
Want to meet our team? With top of the line service we are able to hire top of the line talent. Our longest time veteran is Randy- the lead pest control technician! His family lives here, including 2 grand kids! He and his wife Eva are huge advocates for the pet community here in Show Low and introduced us to Pet Allies- a local animal shelter who does SO much for our community.
We Support Our Community!
Ken and I love the efforts and mission of Pet Allies so much that we are a kennel sponsor with them, we fostered 2 puppies for them, and even adopted a beautiful pup from them! They are a no kill shelter, and we are proud of their efforts to give our local pets to loving homes on the Mountain!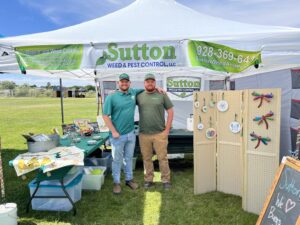 We of course love adoption, and are happy to support the efforts of the Living Hope Foundation! They are an at risk pregnancy advocacy center that offers free ultra sounds, parenting classes, parent support, and even a maternity house for at risk moms! We did a drive on our facebook to get the new maternity house blinds, and we also sealed up the home from rodents, raccoons, and skunks! We also donate to them by treating their weeds, and doing their pest and rodent control.
Ken and I are very active in our church community, and try to find ways to volunteer in the city through Just Serve– a database that anyone can access to find service projects in our local community!
This year we are proud sponsors of Show Low Pom, as well as Show Low Football. If you know of a charity, a great cause or a community event, please let us know! We love to support our community!
Events we also are involved with:
Pinetop Balloon Festival, Show Low Days, Pioneer Day Festival, the 4th of July parade, Harvest festival, Race to the Pines and more! We love to do the local town events like the show low mini mud run, the Snowflake pumpkin patch at Willis Farm, any local vendor event we can join, and shop at the Main Street Farmers market whenever we can on Saturdays through the summer.
We are members of the Show Low Chamber of Commerce, Snowflake Chamber of Commerce, Springerville Chamber of Commerce, and are on the board for the White Mountain Business Owners Round Table, and our local Business Networking Group.
Our Company Values:
1 – Unrivaled Customer Service
2-Take Pride in Our Work
3 – In All Things, Integrity
4 – Improve Lives
5 – Better My Best
Our professionals use top-of-the-line products to ensure that bugs stop coming into your home. Our technicians have specialty certifications on top of regular pest and weed certifications in the fields of rodents, bats, raccoons and wildlife!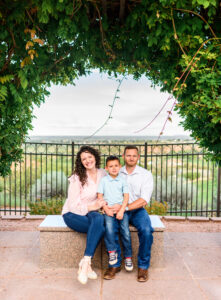 We examine the nature of your problem and customize an effective Pest Control service to fit your needs. Sutton Weed and Pest Control is committed to helping the people in our community. We donate to local charities (Living Hope Foundation, and Pet Allies), we are active in our local church, we go to as many local events as possible, and are members of the Show Low, Springerville/Eagar, Heber Overgaard, Snowflake/Taylor Chambers of Commerce. We're a full-service wildlife, rodent, weed, bat and pest control company dedicated to helping homeowners just like you solve their pest problems and live pest-free lives!
Sutton Weed and Pest Control is the number one choice for weed, wildlife, bat, rodent and pest control in the Show Low, Pinetop, Lakeside, Snowflake, Taylor, Springerville, Eagar, Heber, Overgaard, Forest Lakes, St. Johns, Vernon, Concho, Nutrioso, Alpine, Greer, Holbrook areas in the White Mountains of Arizona.
Our No Risk, No Bull, 100% "Make You Happy" Satisfaction Guarantee: "If you hire us to get rid of your bugs and, at the end of 30 days, you are not 100% Happy…we'll come back and retreat your home for FREE If that still doesn't make you happy we'll give you back every penny you spent for the original treatment…PLUS…we'll even pay YOU an additional $25.00 for your time and trouble!" (Try finding another pest control company with the confidence to make you that offer.)
So…if you've got a pest problem…or simply a question…call Sutton Weed and Pest Control 928-369-6415 and we'll be happy to speak with you anytime!
Pest Control and Rodent Control in Apache and Navajo County Arizona
call today 928-369-6415
or email [email protected]